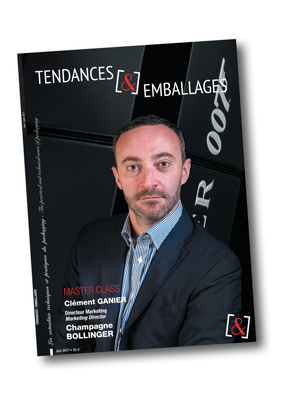 is a quarterly review which summarises current events and technical information about printed packaging.
From the initial idea to the production of the packaging, you will find useful information which is essential for professionals in this industry (such as buyers, decision-makers, buyers, packaging manufacturers and suppliers of raw materials).
Tendances et Emballages « Detector of trends » your partner for your development.
Juin 2017

-----------------------------------------------------------------------------------------------------------------------------
OPINION

Pascal LENOIR - President of the CCFI
Always make a good impression
The rostrum is given this trimester to Pascal Lenoir, President of the CCFI, Company of the Chiefs of Manufacturing Graphic and Communication Industries. As a reminder, the association's mission is to federate all players in the graphic industry, to ensure technological monitoring necessary to master the professions and processes of today but also to prepare for those of tomorrow. What is the future of the players in the sector?

While we have never consumed so much information on all types of media initiated and powered by the professionals in BtoB and BtoC; That individuals have themselves become creators and distributors of the contents, the paper medium has undergone, in ten years, a reduction in its consumption of more than 30%. As a result, the economic models of the sectors, their capacity to invest, have been challenged, requiring them to reinvent themselves at a frantic pace. There are, therefore, many opportunities to be seized if we are able to catch the right wave, to be credible, to finance the past, the present and create its future. While the number of players in our market has diminished, our association, which aims to detect new opportunities for economic development and to encourage them, has, in five years, doubled its membership, rate of attendance of the site and its events.
During our conferences, if we include, of course, new techniques and technologies, we have also opened the field of our themes and the eyes of our companions to the evolution of the uses of past, present and future contents. Revising the posture of each other in their professional relationships and in their client approach was also essential in order to allow organisations to overhaul and be ready to confront new challenges. Of course, when we talk about this type of reasoning, we approach the integration of new trades and profiles to enrich our reflections and experiences.
Nowadays, every innovation allows us to rethink our economic models, our working organisations and our relationships ... With augmented reality, 3D printing, social networks, the younger generation and their mode of consumption, new behaviours of purchasing (via the net) ... everything, around us, changes. We need to be adaptable and this is all the more evident when we are technicians in the service of content.
We must be able to anticipate technological and technological developments so that we can produce content that our readers and customers will also consume in a different way, both cross-media and cross-curricular.

You can ask me: How do you get into industry 4.0?
The right balance must be struck, taking into account training, information and the arrival of new profiles, which will make it possible to preserve from the past what is beneficial and proven without hindering the revolutions of the future. Continuity must have meaning. Even if a large part of our content is commercial, we see that giving meaning to economic acts also becomes an element in the perpetuation of our trades. The environment, social responsibility ... are important actions that must be mastered both in terms of value and communication. Since digital interdependence is a necessity today, we must establish bridges between trades that are hitherto independent and not interconnected. These can neither exist nor endure without prior work and a knowledge of the other and without this willingness to work "together". Once the link is established, it is, therefore, very necessary to define the "why?" and "what are the returns?"
In this concern for openness, we integrate in our conferences and information all the weak signals or weaker that we can spot, not without consulting experts to translate them. We are convinced that all graphic, digital, marketing, press, publishing, packaging, labels, hardware manufacturers, material producers, software developers all have an interest in meeting. Because everything becomes so complex, fast and pointed, we have to be humble and opportunistic, with an ability to share, to exchange, to integrate ... These are fabulous challenges that must not be left to others for the honour of raising.

Pascal Lenoir is President of the CCFI (Company of Chiefs of Manufacturing Graphic and Communication Industries), Production Director at Gallimard Publishing and Chairman of the Environment and Manufacturing Commission of the SNE. The colleagues Jean-Philippe Behr and Jean-Michel Laude will be hosting a conference on the printing of the future at the next Graphitec fair where, at this occasion the president of the jury, Véronique Pivat, will proclaim the prestigious award for the 61st Cadrat d'Or competition.