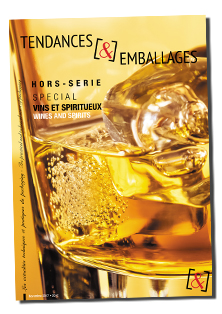 is a quarterly review which summarises current events and technical information about printed packaging.
From the initial idea to the production of the packaging, you will find useful information which is essential for professionals in this industry (such as buyers, decision-makers, buyers, packaging manufacturers and suppliers of raw materials).
Tendances et Emballages « Detector of trends » your partner for your development.
November 2017

-----------------------------------------------------------------------------------------------------------------------------
OPINION

Cédric Raynaud, President at the agency Linea - the Spirit Valley Designers
Like a good vine, creativity is cultivated

Cédric Raynaud, whom we entrust this tribune would not contradict us. President at the agency Linea - the Spirit Valley Designers, this experienced designer offers his enlightened advice on the wines and spirits packaging market, delivering his understanding in the economic context conducive to creation.


Regarding the market, in which we are hyper specialised, we can clearly see that it is in an excellent position, especially internationally. While the sector of the brown liquor industry has soared in activity, we are witnessing an explosion of white alcohols, such as gin or vodka. The market for cognac, of which 98% is destined for export, is also doing very well, but it is necessary to work intensively to continue its image. Wine, meanwhile, still offers good prospects, however it may be suffering the consequences of the climatic problems of this year 2017. Note that sparkling wines such as Prosecco, are experiencing a buying explosion.
Guaranteeing a proven competence and expertise of forty years, Linea conceives packaging for wines and spirits, with a true vision of designers of experience and not just of product. We have, by creating the Spirit Valley Designers, anticipated an economic model. This model, based on a community spirit, shares the same creative approach, considered as a true philosophy of work. Artisan designers, and non artists alike, we must take into account all the industrial aspects (cost, materials, machines, the
reproduction of the creation), but also to work with the meaning for the user experience. Our job: listening, transcribing, astonishing, creating emotion. We must reassure, take into account the unexpressed needs of consumers and always put the intention before the design! The designer invests in branded content by creating an interactive link between the product and the consumer, a perfect interface through shapes, textures, materials and labels.

Whilst consulted on projects, we often hear this question "What are the trends?" This is a question I can not answer. On the other hand, it is quite possible to identify the major currents that will guide the creative process. For example, we are beginning to reinterpret noble materials such as Limoges porcelain.
Without betraying the precious craft work of the ceramist, in this case, the manufacturer Artoria, with whom we collaborated, the standardisation through the reproduction in 3D of five original models allowed us to meet a considerable production. This expertise is in addition to our workshop "Glass Expert", a real laboratory of experimentation, initiated by the founder of Linea, the designer Jean-Michel Jobit who, to our great pleasure, often visits us. The unique label also fits in with this innovative current with a lot of potency. The idea of personalisation is however slightly truncated insofar as digital design allows us here to produce and reproduce in a random way. There is something magical about seeing the machines turning out this awesome type of production.

In the end, what should the wines and spirits professionals expect from a design agency? The designer must be a confidant, he will be able to be surprising whilst also reassuring, so that the magic can operate. As Florence Knoll rightly pointed out, Good design is good business, design is valuable and should be considered as an investment. Never forget that 75% of the consumer's sensitivity is attributed to the pairing of shape and colour.

This tribune is too small to express all the creativity of Linea, so discover, in pictures, their sublime packaging, often rewarded, on their site www.linea.design.